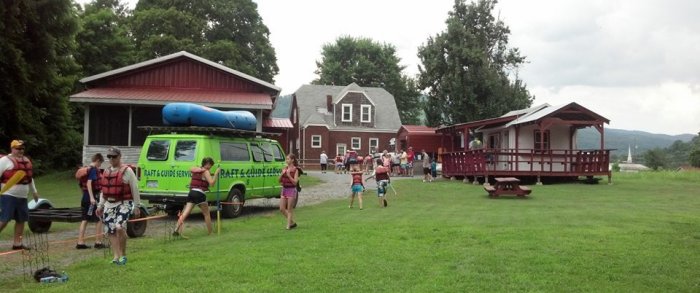 Wahoo's Private Outost on the Watauga River
*NO LONG BUS RIDES!
Our Riverside Outpost Offers;
HOT-Showers
Changing Rooms
Restrooms
Screened-in Picnic Shelter
Riverside Picnicing
Private Beach
FREE Parking
Gift Shop
Family and adventure are hard pressed to be found in the same sentence, but not at Wahoo's Adventures. On this quiet and picturesque river, family and adventure go hand-in-hand, with programs designed for all ages . Gentle rolling class I and II rapids and one exciting class III compliment this serene float trip through the Tennessee foothills where farms and wildlife dot the landscape surrounding this beautiful river and its ecosystem.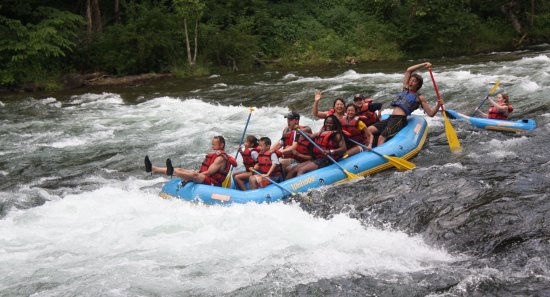 The trip begins at the base of the highest TVA electrical producing dam in the Southeast and proceeds through a cliff-sided valley where the water is clear enough to see to the bottom twenty feet below. Rainbow and Brown trout breach the surface of the glass like water in search of a snack while a Red-tailed Hawk circles overhead with a keen eye out for his next meal. The Watauga River winds its way through the valley in a gentle but fast moving fashion that is accentuated with class I and II rapids to keep you focused on the river itself.

Around the next bend lies Anaconda, a class III hydraulic that serves as an excellent chance to get splashed, and cooled off before continuing along the river where wildlife and farms abound. While the trip is geared towards small children and first timers, the mighty rapids of Anaconda, rival any of the class III's that can be found on any rafting trip in the Western North Carolina or East Tennessee region. Cows from a nearby farm are often seen at river's edge ready to greet the passing boats while Great Blue Herons search for snacks on the riverbanks. After an hour of twists and turns and a few more rapids, the boat delivers you to a private pristine beach at the edge of the river and your journey's end at Wahoo's Outpost.

Everyone & Anyone can jump! This is a great bucket list opportunity!
The Watauga River rafting trip is ideal for families with small children as well as the kid in everyone. In addition to the rafting trips leaving every hour, Wahoo's Adventure's offers whitewater rafting, funyaking, canoeing and tubing down this pristine river. Wahoo's Watauga Outpost is the only rafting company with full service facilities located on the banks of the river in Elizabethton, Tennessee. Guests are welcome to stay and enjoy the grassy beach, picnic shelter, camp ground, fishing and purchase an additional trip down the river if they choose.
*Private trips are available by request for groups of all sizes.
* New since 2013: Bellyak, and SUP (Stand up Padde Boarding)
These tours will be offered as a fully guided option, available to first timers, as well as the seasoned adventurer! Wanna step up your excitement, come and try this new experience!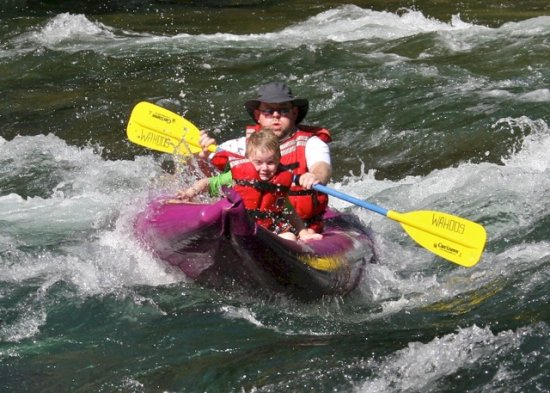 Father & Son Bonding on The Watauga River
Click here for a map to our Watauga River Outpost

TRIP ITINERARY
Be sure to call ahead for availability and reservations!
Check In
Guests needing maps or directions can check in at our Boone, NC headquarters a day prior to the trip or at least 1 hour and 30 minutes prior to the River Meet Time.
River Meet Time
Expeditions will be checking in hourly at 12:00 PM and running throughout the day.
Trip Time
Half-Day Expeditions will include 2 hours on the river. Full-Day trips include a double run as well as our famous deli buffet lunch including Lilly's famous decadent deserts!
Watauga River Outpost The only full service location on the entire river!
Book a Trip Now!
Explore Asheville