Tubing The New River, North Carolina
OH - the TOYS you can play with while cruising the NEW RIVER!
Canoe, Kayak, SUP (Stand up Paddle Board), and Tubes of all kinds - Tubes, tubes, and more tubes - OH MY!
We have standard tubes, doubles, tubes with back-rest & cup-holders, cradle tubes, & all types of tubes with or without bottoms; whatever you want, we have it, with unlimited tubing for the whole day!
*NO LONG BUS RIDES!
The scenic New River gently flows through the rugged hillsides of Ashe and Watauga Counties of North Carolina and is perfect for canoeing, kayaking, and tubing. Picturesque pastures and farmlands provide a serene setting as paddlers leisurely float downstream.
The New River, is the second oldest river in the world, and is one of few with a northward flow. The "New" springs from its headwaters in Blowing Rock, NC to form a gentle stream that flows through the Blue Ridge Mountains through Todd North Carolina and grows into a mighty river as it winds through southern Virginia and West Virginia, eventually finding its way to the mighty Ohio River.
These slow-moving waters provide a scenic passageway through abundant wildflowers, inspiring mountain scenery and excellent birding. Gliding in a canoe or kayak is undoubtedly the best way to absorb the serenity of this pristine river, conveniently located near the Blue Ridge Parkway and flowing through Todd, NC, and provides a relaxing trip for those visiting the Western NC area!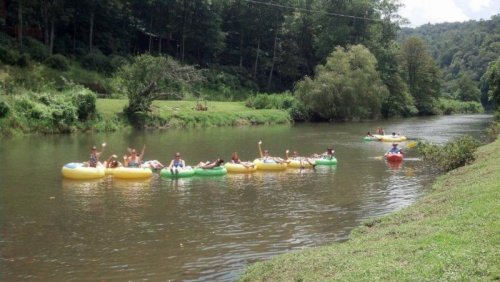 The New River is a perfect float trip for small children and first-timers who are planning on visiting the High Country of western North Carolina. Most sections are waist deep and the riverbed can be seen through the crystal clear water.
Before launching downstream, guests receive a brief lesson on the basic strokes, water safety tips, and what to expect on the river. Wahoo's offers tours from two to seven hours and overnight trips are available on request.
The New River is also ideal for anglers (NC Fishing permit is required) as it's teaming with monster-sized smallmouth bass and trophy trout. If you're an avid fisherman, don't forget to bring your pole and tackle box and be prepared for a great day of fishing.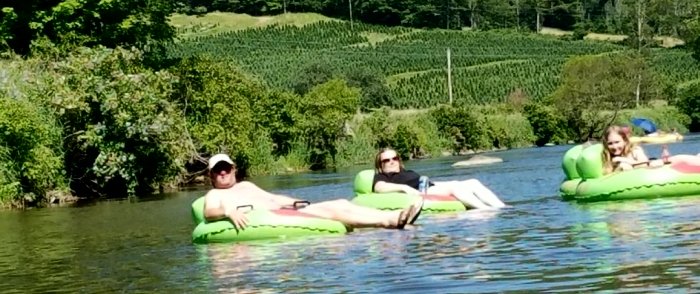 We are the only outfitter with an outpost on the river , boasting over a thousand feet of river frontage. It features a park-like setting with a large picnic shelter, tables, changing area, hot showers, flush toliets. Private catering for groups of all sizes. Ample parking is provided for the convenience of our guests so they can leave the outpost at their leisure.
Our New River Outpost is the ideal setting for a lazy day on the river for the entire family and the perfect escape from the stresses of everyday life.
Book a Trip Now!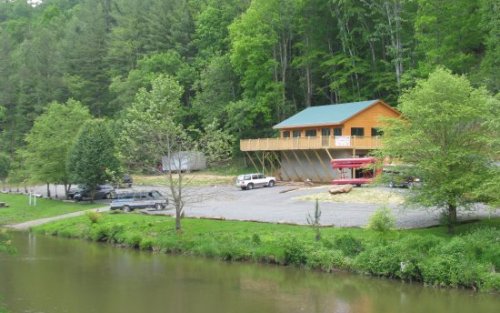 Our New River Outpost is a modern, up-to-date facility where folks can stop and rest in comfort.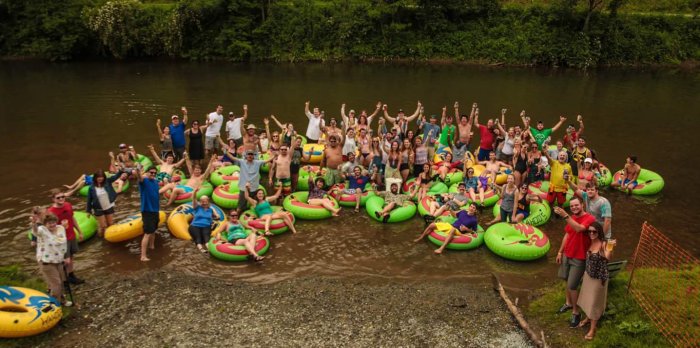 Book a Trip - We look forward to seeing you on the river!
Explore Asheville