Group Outings & Team Building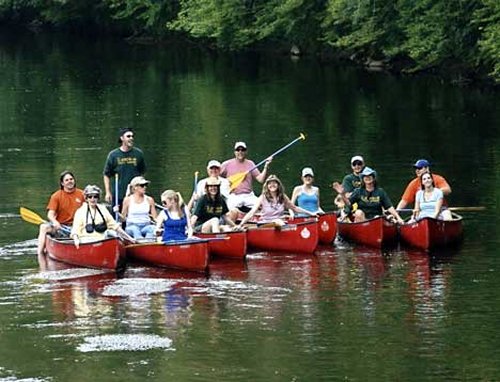 Church, Scout, Corporate and other large groups...
Our 'Total Package' service is perfect for your next group outing or team-building trip.
Just tell us your needs and how much time you have. We'll develop your 'Total Package' with the ideal lodging, meals, cookouts, transportation and adventuresyou desire. No matter what your taste or budget - camping, motel, luxury cabin - Wahoo's can make it happen!
This service isperfect for a multitude of group oriented outings, including corporate or small business team building and trust exercises, as well as Church and Youth Group vacations and outings.
Whatever the size and shape of your company or group, we will accommodate you and make sure you have an unforgettable experience like you've never had before. We're located in Boone, North Carolina (NC) in the Great Smokey Mountains near several of the world's best white water as well as gently flowing rivers ideal for families. So if you have a large group and are looking for adventure in the Tennessee or North Carolina area, just pick up the phone and give us a call!
SCOUTING PROGRAM
At Wahoo's, quality and safety have always been our # 1 priorities. Due to huge popular demand by Scouting Enthusiasts, we are proud to announce our new Scout programing. This experience is available to boys, girls, men and women of all ages. Our program provides comprehensive knowledge of all skills necessary to complete Merit Badge requirements. With a highly trained expert staff of active Scouts and former Scouts, we are able to serve all your Scouting needs. Our training sessions can range from half a day, to an entire week. By offering our private riverside facilities and state-of-the-art equipment, we can offer the best services available for a fraction of the cost of the traditional Scout Camp. Help us build your program, as well as the advancement of all, by trying our Scouting Experience! You may also join us for what we have specialized in for 35 years, High Adventure! Rafting, Kayaking, Canoeing, Caving, Mountain Biking, Stand-up Paddle-boarding, Tubing, and new to 2013 Belly-boarding are all the exciting programs waiting for you!

Whitewater Merit Badge: Ever wondered how rafts, canoes and kayaks navigate down raging rivers? Wahoo's offers a complete clinic with an overview providing hands on instruction on how to run a whitewater river safely. Supervised by our expertly trained guides, certified in Swiftwater Rescue , First Aid, as well as expert training and expierence in canoes, kayaks, and rafts.Your instruction will include river safety and resuce, how to paddle and read moving water, as well as how to capsize and correct canoes, kayaks, and rafts. This program offers a challanging fun filled day of instruction, fellowship and team building skills.


Canoeing Merit Badge: Who invented the first canoe? At Wahoo's not only will you learn the history of canoes, but also the finite skills necessary to paddle and control a canoe in a variety of water conditions. Trained by our expert staff, your participants will be taught proper paddling strokes, rescue techniques, and proper navigation skills while maintaining a canoe. This program offers a fun-filled day of knowledge, fellowship, and leadership building activities.


Kayaking Merit Badge: Wanna learn how we roll? Wahoo's offers the best available kayaking classes in the area. Ranging from techniques of river safety, to how to properly read a river, we offer a comprehensive class to turn a first time paddler into an expert! Available on all of our commercial rivers, our guides will lead you down one of our amazing expeditions for a action packed day on the river.


Hiking Merit Badge: Surrounded by the beautiful Appalachian Mountains, and only a short drive to trail heads along the Blue Ridge Parkway and the Appalachian Trail. Wahoos is now proud to offer a Hiking Merit Badge. Closely supervised by our expertly trained staff, your participants will be instructed on proper packing techniques, itinerary planning, and all other information they might need to lead their own hiking trips. Join us for a Trekking weekend to help build the leadership and knowledge of your troop!

Cooking Merit badge: Ever wondered if you could prepare a gourmet home cooked meal away from home? At Wahoo's our instructors will teach you the benefits and dangers of outdoor cooking. Supervised by our in-house professional Caterer, Your participants will be taught techniques for cooking ranging from Food Handling, purchasing, budgeting, possible allergies as well as safe preparation of cooked meats and vegetables. This is a fun, and delicious way to enjoy fellowship around the campfire with friends and Wahoo's Adventures!


Geology Merit Badge: How were our mountains and rivers formed? With the introduction of the Geology Merit Badge, your participants, will be instructed by a past Scout, now matured and became a professional Geologist. The curriculum will discuss how the minerals and elements we see everyday helped form our earth. This experience is available as an add on, to one of our hiking, rafting, canoeing or caving expeditions. Our expert staff will lead a fun and informative adventure into the history of the formation of our wonderful planet.


Forestry Merit Badge: Surrounded by the Appalachians and Blue Ridge Mountains world renown for it's abundance of flora and fauna, Wahoos offers a Forestry Merit Badge. Your participants will learn and discuss the importance of ecosystems and how they can be effected by outside impact and changing weather forces. They will be lead on a nature hike along the New river around our beautiful facilities, providing them with a hands-on experience in the wild. This Merit Badge can be completed on any of our programing as an add on.
*Some prerequisites needed before taking course.
#This badge, with prerequisites can be completed on top of some of our other badges!
Explore Asheville